Plastic and wood fibres are used to make the WPC (Wood Plastic Composite) deck flooring. It is which is a type that is an outdoor floor material. Instead of conventional concrete or wood materials, it is used for decks as well as patios and other outdoor structures.
The idea of composite decking was first made public in the 2000s, and that was the time when WPC decking flooring from India first became popular. Because of its long-lasting durability and low maintenance requirements, It first came from different countries and was used in constructions with high-end finishes. Over time, Indian producers began using the technology to manufacture WPC decking locally.
WPC decking was initially introduced as an alternative to green wooden decking, which is known for requiring lots of maintenance and a shorter lifetime. Combining plastic with wood fiber makes WPC decking more durable and more substantial. This protects it from damage caused by decay, rot, and insects. Its resistance to water makes it ideal for use in outdoor spaces such as balconies and decks for swimming pools.
In India these days, WPC decking is a popular choice for commercial and residential decking projects in outdoor areas. Its durability, low maintenance requirements, and aesthetic appeal are among the aspects that contribute to its popularity. It is a material that can be used in a variety of ways that can be used in many different projects, as it comes in a wide range of colors as well as textures and finishes.
The material used in WPC deck flooring
Wood fibres, plastic, and additives are combined to form WPC (wood-plastic composite) deck flooring, constructed of resilient and weather-resistant decking material. Depending on the manufacturer and the intended qualities of the product, the specific materials used may vary, but generally speaking, WPC deck flooring includes:
Wood fibres: Hardwood or softwood, such as pine or oak, are commonly utilized to make the wood fibres used in WPC deck flooring. The fibres are crushed into a fine powder and combined with additional components to make the composite material.
Plastic: The majority of the material in WPC deck flooring is plastic, usually polyethylene (P.E.), polypropylene (P.P.), or polyvinyl chloride (PVC). The plastic serves as a binder, binding the wood fibres together and strengthening and improving the moisture resistance of the composite material.
Additives: Several additives, like U.V. stabilizers to prevent fading, colorants to add colour, and fire retardants to boost fire resistance, may be present in WPC deck flooring in order to improve its qualities.
In comparison to conventional wood decking, the material created by the mix of these components is more resilient to rot, mould, and moisture. Due to its utilization of recycled materials and lack of toxic chemicals like those used in pressure-treated lumber, it is also more environmentally friendly.
Maintainance techniques of WPC deck flooring:
Your WPC (wood-plastic composite) deck flooring can be easily maintained with little work. Here are some pointers for keeping your WPC deck flooring in good condition:
Cleaning regularly: To clean WPC deck flooring, use a solution of warm water, mild soap, or a specialized deck cleaner. To remove dirt and other debris, use an electric or power brush with soft bristles to get rid of filth and debris. Following cleaning the deck, you should thoroughly wash the deck with clean water.
After cleaning, thoroughly rinse the deck with fresh water. Remove stains promptly: Spills and stains on your WPC deck flooring should be cleaned promptly to prevent them from setting in permanently. To get rid of the color, use a soft cloth and a mild cleaning agent.
Prevent scratches: Prevent scratches by not dragging bulky furniture or pointed objects across the WPC deck surface. To stop furniture legs from scratching the surface, place furniture pads under them.
Prevent heat sources: Grills and fire pits shouldn't be placed directly on WPC deck flooring since the heat might harm the material. To avoid heat damage, use a grill cushion or a protective mat.
Frequent inspections: Look for any signs of wear or damage on your WPC deck flooring on a regular basis. Any problems should be resolved right away to avoid future harm.
Protect the deck from the elements: Use a cover or canopy to protect your WPC deck flooring from excessive exposure to the sun, rain, and snow. This can help prevent damage and prolong the lifespan of the deck.
These simple maintenance techniques can keep your WPC deck flooring looking great for years.
WPC Deck vs. Wooden Deck flooring
WPC (wood-plastic composite) and wooden deck flooring have advantages and drawbacks. The main variations between the two are as follows:
Material: Wooden deck flooring is created from natural wood, whereas WPC deck flooring is made from a mixture of wood fibers and plastic. Wooden flooring can be susceptible to these problems if not correctly maintained, whereas WPC flooring is more resistant to dampness, insects, and rot.
Maintenance: WPC flooring requires less upkeep than wooden flooring does. It can be readily cleaned with soap and water and doesn't need to be stained or sealed. Regular staining, sealing, and cleaning are necessary for wooden flooring to avoid moisture damage and keep its aesthetic quality.
Durability: WPC flooring is more resilient than wooden flooring in terms of durability. It is less likely to warp or split over time and is resistant to scratches, stains, and fading. If it is not maintained correctly, wooden flooring is particularly vulnerable to these problems.
Prices: WPC flooring is generally more expensive than wood flooring. However, it can be a better value in the long term because of its long-lasting durability and ease of maintenance.
Appearance: Wooden and WPC flooring are able to be modified to create different formations and styles. WPC flooring can appear more uniform due to the manufacturing process, whereas wood flooring can be a more natural and distinctive appearance.
People looking for a low-maintenance, long-lasting, and moisture-resistant solution might pick WPC deck flooring. At the same time, those seeking a more natural and traditional aesthetic prefer hardwood deck flooring. The decision is ultimately down to personal taste, price range, and maintenance requirements.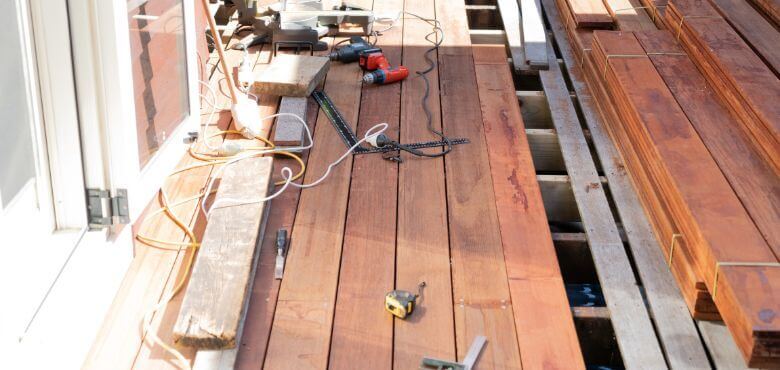 Difference between Deck Flooring, Wooden Deck Flooring, and WPC Deck Flooring
Deck flooring, wood deck flooring, and wood-plastic composite (wood-plastic composite) deck flooring are all options to create an attractive and functional outdoor space. These are the main differences between the three options:
Deck Flooring: Deck flooring is constructed from a variety of materials like stone and concrete, as well as composites. It's an option that is versatile that can be customized to create various styles and looks. It will, however, require more frequent maintenance than other alternatives like staining or sealing and is less durable in the long run.
Wooden Deck Flooring: Hardwood deck flooring is popular because of its classic and all-natural appearance. It is constructed from natural wood. It is resilient and can endure for many years if properly cared for. Still, it needs regular maintenance, including staining, sealing, and cleaning, to prevent moisture damage and preserve its beauty. If properly maintained, wooden deck flooring may be protected from problems like rot and insect damage.
WPC Deck Flooring: WPC decking is composed of plastic and wood fibers, making it a long-lasting and low-maintenance choice. It is impervious to insects, water, and rot and doesn't require sealing or staining. WPC flooring can be modified to create different appearances and styles. However, it may be more uniform in appearance due to the manufacturing process.
In conclusion, whereas wood deck flooring offers a conventional and natural aesthetic but necessitates routine maintenance, WPC deck flooring is a long-lasting, low-maintenance solution with a constant appearance. Deck flooring offers versatility but may require additional care. The final decision is to your personal preferences, price range, and maintenance requirements.
With experienced guidance and professionals who will help you choose the best flooring option that adequately meets your requirements and needs according to your budget, S.M.Flooring is the leading supplier, trader, dealer, and distributor of the three above flooring options with affordable prices in Mumbai Maharashtra.
Why choose us?
S.M. Flooring is definitely among our top imaginative and creative suppliers. We are capable of creating unique WPC deck flooring patterns. Our skilled designers and professionals will collaborate with you to determine your requirements and recommend the best flooring option to give your home the perfect atmosphere and a perfect look. We are the leading wholesalers, traders, and distributors who provide a one-stop solution for all types of flooring and their installation services in Mumbai, Maharashtra, without compromising on quality.